A Question of Leadership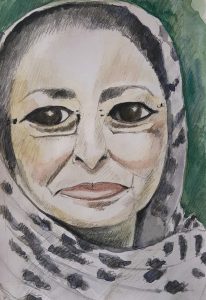 In her artwork, Pickering examines questions of leadership during the COVID-19 global pandemic. "Question of Leadership", focuses on community leaders, such as Dr. Thoraya Ahmed Obaid, who speak truth to power. Because the people who deserve public attention are those leading us through this crisis with humility, sacrifice and collaboration.
About Dr. Thoraya Ahmed Obaid
Dr. Thoraya Obaid is a Saudi Arabian woman who has dedicated her life to advocating for the rights and advancement of women's equality. She is the first Saudi, male or female, to head a United Nations agency. From 2000-2010 she was the Executive Director of the United Nations Population fund and was appointed Undersecretary General in 2001.
Gender Inequality and Covid-19
Dr. Thoraya is Chair of the Women 20 (W20), which has just released their "actionable policy recommendations" for the protection of women and girls during the covid-19 global pandemic.
The objective of the W20 is, "to ensure that the gender considerations are mainstreamed into G20 discussions and translate into the G20 Leaders' Declaration as policies and commitments that foster gender equality and women's economic empowerment."(1)
In an interview with the Arab News, Dr. Thoraya raised concern about the disproportionate impact of Covid-19 on women and girls. According to experts, gender inequalities for women and girls become worse during a pandemic. Furthermore, women represent 7 out of 10 health and social care workers. As a result, they are in greater danger of being exposed to the virus. She also raises the economic importance of their service in the health care industry. For example, prior to the outbreak, women's work in heath care represents 1.5 trillion towards the global economy.
Career
In 1963, Thoraya Obaid was the first Saudi woman to study abroad in the US on government scholarship. In 1975, she founded the first women's development program in Western Asia. Her advocacy for women's rights spans an entire career. Her experience includes; the League of Arab States Working Group for Formulating the Arab Strategy for Social Development (1984-5), Chief of the Social Development of the Economic and Social Commission for Western Asia (1992-93) and Population Division Deputy Executive Secretary for the same organization (1993- 1998). She started working with the United Nations on an Inter-Agency Task Force on Gender in 1996, the United Nations Inter-Agency Gender Mission to Afghanistan in 1997 and as Director of the Division for Arab States and Europe from 1998 to 2001.
About the Artist Jennifer Pickering
Jennifer Pickering is a contemporary artist from Canada, born in Switzerland and currently based in the Kingdom of Saudi Arabia. She teaches Visual Art at Advanced Learning Schools, an International Baccalaureate School. Much of her practice is based in site-specific interventions into public space. Her work explores complex systems of information exchange. Issues of access and denial, of privilege, class and where the power lies are central to her work.
For more artwork by Pickering in this series "A Question of Leadership" visit: http://jen-pickering.com/blog/
References
https://en.wikipedia.org/wiki/Thoraya_Obaid (April 28, 2020)
https://www.arabnews.com/node/1664076/saudi-arabia (April 24, 2020)
Op Art Paintings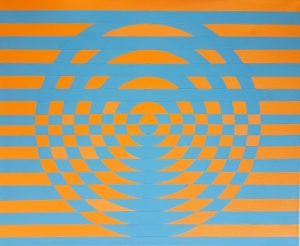 Op Art paintings done this month. Really like the process and plan to use it in some future work.
Unpacked 2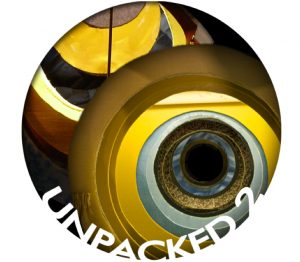 I installed this floating art installation July 14 – 30, 2011 on Okanagan lake. Working with suitcases brings up recent histories of travel, circulation and exchange. The holes cut through the suitcases light up, creating moon-like reflections on the water. The inner fabrics add colour and occasionally a 1970′s floral pattern. This work is especially exciting is when a storm hits.
I found all these suitcases when I first moved back to the Okanagan in 2004. The second hand stores were full of them. Why did people hold on to them for so long? Were they reminders of past trips, a gift or simply forgotten in storage? They were clearly meaningful to be kept around for the past 30- 40 years.