A Question of Leadership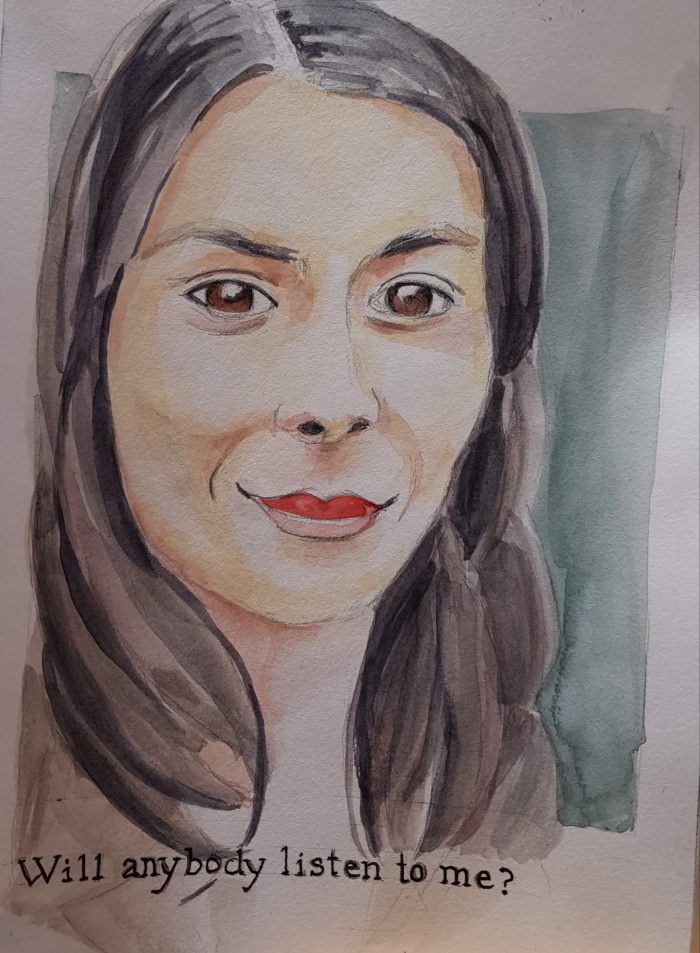 April 22, 2020
Studio
In her artwork, Pickering examines questions of leadership during the COVID-19 health crisis. As part of a larger body of artwork, "Questions of Leadership", focuses on community leaders such as Dr. Viz, who speak truth to power. Because the people who deserve public attention are those leading us through this crisis with humility, sacrifice and collaboration.
One Woman Not Alone
On April 20th, 2020, Doctor Meenal Viz staged a one woman protest at the gates of Downing Street. One woman standing on her own, certainly not alone in her criticism of the UK governments' handing of the COVID 19 pandemic. Specifically over failing to provide adequate protective personal equipment and testing to health care workers.
Through her actions, Dr. Viz reminds us that one individual can make a difference. For women and men like her, communities applaud loudly from their balconies every night. However, many have begun to question the narrative of war and heroism being used to describe the role of doctors, nurses, paramedics and care home workers. That is to say, a narrative which serves to support the normalization of people having to sacrifice their safety in the name of their country. Their voices silenced, a nation of health care workers demand, through the protest of one doctor, that their government listen and respond. Continue to applaud, yet do not stop at that. To be clear, this is a call to action. Because, just like Dr. Viz, we must all stand alone together, to protect those most vulnerable in our communities.
"I wanted to show the government, show the public, that this is not OK" stated Dr. Viz. (1)
Dr. Viz, herself pregnant, felt she has no choice but to take a stand. This after pregnant nurse Mary Agyeiwaa Agyapong died of COVID 19. Nurse Agyapong's daughter survived.
About the Artist Jennifer Pickering
Jennifer Pickering is a contemporary artist from Canada, born in Switzerland and currently based in the Kingdom of Saudi Arabia. She teaches Visual Art at Advanced Learning Schools, an International Baccalaureate School. Much of her practice is based in site-specific interventions into public space. Her work explores complex systems of information exchange. Issues of access and denial, of privilege, class and where the power lies are central to her work.
For more artwork by Pickering in this series "A Question of Leadership" visit: http://jen-pickering.com/blog/
References
https://www.theguardian.com/society/2020/apr/20/coronavirus-doctor-ppe-protest-downing-street-london