A Question of Leadership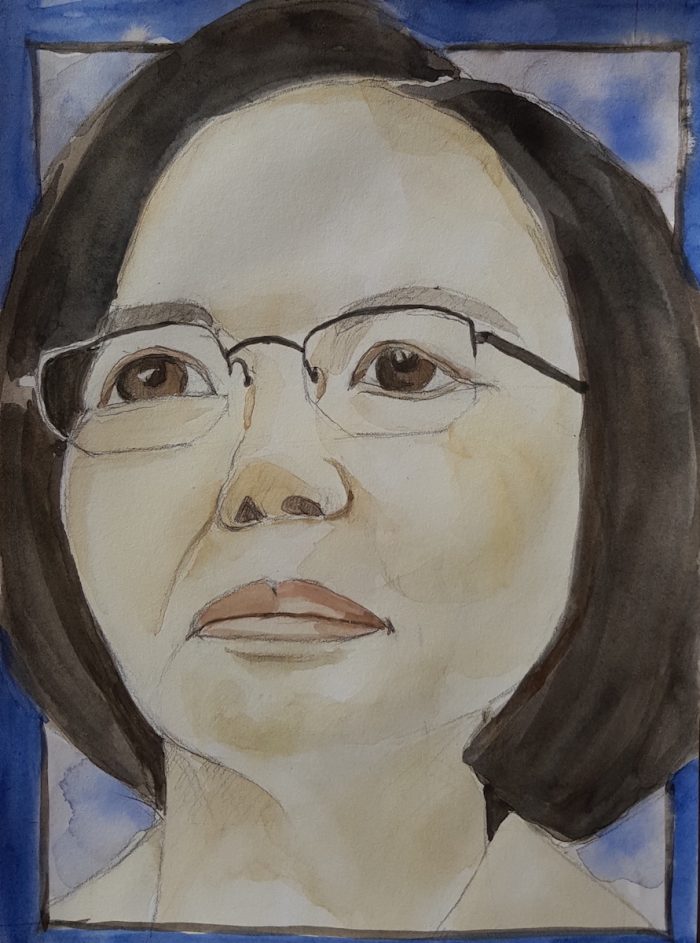 May 2, 2020
Studio
In her artwork, Pickering examines questions of leadership during the COVID-19 global pandemic. "Question of Leadership", focuses on community leaders, such as Tsai Ing-wen who speak truth to power. Because the people who deserve public attention are those leading us through this crisis with humility, sacrifice and collaboration.
About Tsai Ing-wen
In 2016 Tsai Ing-wen became the first female president of Taiwan. She represents the Democratic Progressive Party (DPP), with a platform to support human rights. For example, in 2019, under Tsai, Taiwan became the first Asian country to legalize gay marriage.
Tsai received her masters from Cornell University Law School in 1980. In 1984 she went on to graduate with a doctorate from the London School of Economics and Political Science. She started her career as a negotiator for Taiwan's participation with the World Trade Organization. After she served on the National Security Council. She was promoted to the role of Chairwoman after joining the DPP in 2004.
A Collective Effort
Tsai writes, "Global crises test the fabric of the inter-national community, stretching us at the seams and threatening to tear us apart. Now more than ever, every link in this global network must be accounted for. We must set aside our differences and work together for the benefit of humankind. The fight against COVID-19 will require the collective efforts of people around the world."(1)
Under her leadership, Taiwan reacted quickly and efficiently to the threat posed by the Covid-19 virus. As early as January, the government formed a Central Epidemic Command Center. They monitored visitors from Wuhan, established travel restrictions and quarantine regulations. They traced and tracked contacts starting with their first case on January 21st. To ensure adequate supply of PPE, the Ministry of Economic Affairs Coordinated with private sector machine-tool and medical supply companies. They were able to produce enough masks for front line workers as well as citizens. Through private and public cooperation, they also oversaw the distribution of masks. They were so successful that Taiwan has been donating supplies to countries in need. Taiwan, a country of 23.78 million, has had only 432 cases and 6 deaths to date.
Taiwan has been donating masks to countries in need including the US, Italy, Spain, France, Germany, Belgium and the U.K. For example, masks from Taiwan arrived in Canada earlier this week. The Taiwanese Ministry of Foreign Affairs, in addition to providing masks for medical workers, also allocated a portion of masks for Canada's Indigenous communities.
About the Artist Jennifer Pickering
Jennifer Pickering is a contemporary artist from Canada, born in Switzerland and currently based in the Kingdom of Saudi Arabia. She teaches Visual Art at Advanced Learning Schools, an International Baccalaureate School. Much of her practice is based in site-specific interventions into public space. Her work explores complex systems of information exchange. Issues of access and denial, of privilege, class and where the power lies are central to her work.
For more artwork by Pickering in this series "A Question of Leadership" visit: http://jen-pickering.com/blog/
References